---
Why do we put these things together? First and foremost, to bring our best to meet the ultimate challenge of our times: to restore the health and well-being of the the planetary ecosystem. To bring the potency of creative technology into service of healthy ecology. To do our part in healing Mother Eartheart. To bring forward humane values of fairness and equality; individuality and diversity; peace and love; respect and revival; integrity and wholeness. To leave behind the destructive patterns of our inherited cultural immaturity, and fire up our creative passions to step into the future and live a life worth living.
As always, the Gathering is free of charge, non-commercial, open to all, activistic, futuristic, and lots of fun!
Join us in seeing how it all fits together, seeing the big picture, seeing the longterm worldwide effects of our actions -- so we can all become better, humbler, wiser co-pilots for Spaceship Earth.
Each Gathering is a creative variation on the tradional themes we've evolved over the years; each one provides a safe haven for people to share creativity with one another, and at the same time each Gathering is a unique work of art in itself.
Since each gathering is made up new and fresh and has never happened before, they can easily be seen as experiments in expanding the envelope of creativity, co-creativity, and eco-creativity.
Sometimes, its as pure and simple as opening up space for good folks to gather. As simple as a time and place for good folks speaking out and being heard. As simple as joining the circle, and sharing wisdom. As simple as getting passionate people who know why into the same space with talented people who know how.
(((gathering39)))
---
our latest experimental gathering...
this time in the very heart of North America, at the place where all paths meet....
El Paso, Texas.
---
WHEN?
2019-02-14 through 2019-02-19
---
---
---
WHERE?
Mystery Locations,
OnLine and OnLand
(see hints in the fine print ;))
(This year our style of ecocreativity is to get down to hands-on creation... so we are having closeknit nanogatherings of 2020-visionary Ecocre8ors who are directly involved in building either our Onland Gathering Place or our Online Gathering Place... for your future exploration, adventure, immersal & empowerment in 2020 and beyond.)
---
---
---
We had a big public Gathering last year, so if you missed out, here's your second chance to grab a collectors item:
((click here to download the snazzy 2018 poster))
---
---
---
Like any good work of art, the Gatherings resist pat definitions or easy comparisons. Traditionally, however, it's safe to say that our events time after time curiously attract a magically balanced diversity of unique individuals on the cutting edge of social change -- who envision, design, program, animate, sculpt, write, diagnose, architect, invent, invest, analyze, synthesize, research, develop, consult, advise, speak, facilitate, coach, teach, train, meditate, stretch, massage, heal, garden, sprout, juice, cook, farm, feed, nourish, stimulate, provoke, harmonize, legislate, execute, adjudicate, interpret, implement, entertain, compose, perform, photograph, paint, critique, code, provoke -- and in countless other ways influentially participate in creating the state of the art. And as our community co-creates the state of the art, we naturally provide tools for activism, platforms for activists, and activation of movement beyond the art of the state.
Since 1980, the Gatherings have been attracting a wide range of creative thinkers who are revitalized by the opportunity to interact with their counterparts in other fields. Now we welcome you to gather with us.
---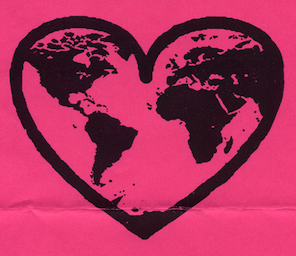 Eartheart of 1990, from our 10th Annual Digital Valentines poster
---
The fine print:
For the Gatherings themselves, there is never any fee, there is never any soliciation of donations, and no money donations are accepted if offered. So the only way you can contribute is to contribute your own creativity, your own time, your own energy, your own good will -- to combine with what others contribute, and make the best possible Gathering that we can co-create.
During 2012-2017 we gathered in cyberspace, jumping on the vehicle that our community has been pushstarting for 3 decades: the web. 2012-2017 experiments set the stage for world wide gatherings that will be continuing in years to come, when we will be creating our own nest within the cloud, our own Gathering Place within the World Wide Web. We started off crudely but amazingly with our 2012 worldwide videoconferencing experiment (that bridged 2 dozen audiovideo participants over 3 continents), and in 2013 and 2014 we experiemented with graphics-less global gatherings via pure audio-flavored cyberspace....... in 2015 and 2016 and 2017 came a little taste of what we are e-co-cooking-up for the future.... ...and now in 2018 we step out of cyberspace and ground it all at the very heart of north america -- El Paso.

So join us as we embark on an evolutionary path of Graphical Gathering Places both OnLand and OnLine... that will support us ever more in bringing separate worlds together, in enjoying each others company, and in our creativity, cocreativity, and ecocreativity.

Bedrock for our home in the clouds in the years to come will be our dedication to working atop a platform of Open Standards (Internet (TCP/IP), Web (HTTP, HTML5), JavaEE, JavaScript) and Open Source (building on LGPL and Apache foundations).... Atop that, we'll do our next generation of pixel magic and humane interfaces ;)
And someday, we'll land it bigtime, creating a fresh physical OnLand GatheringPlace unlike any the world has known. We haven't forgotten our roots or our guiding star, and slowly but surely we're helping to steward the flow away from hardtimes and toward softspaces :)
---
The even finer print:
(c)1980-2019 all rights reserved.

If you need to be in touch for any reason, and would like a reply, the email address to use is
gathering-welcome-mat-2019 AT glassroutes.org
... .... and welcome to the "creative chaos" :-)

The dynamics of our special blend of creative chaos often have included a mix of: "solid" speaker and media presentation sessions, "liquid" discussion and interactive and game sessions, and "gas" mixing and mingling sessions. But each year the pre-concocted solid-liquid-gas mix is different, so be ready for surprises... and for going with the flow that emerges naturally from the interesting mix of interesting people who show up.

We certainly want to empower those who "do good" to "do well"... just be appropriate, do not exploit the situation for selfish purposes, and please respect the non-commercial nature of the Gathering.

Please respect the sensitivities of others who gather, and please do not bring any toxins or allergens to the space (no smoking, no aromatic chemicals, no pets, no non-human animals, no wool, no feathers, no plant material that could cause reactions in others, no art made with toxic or odorous materials, and when we have pot luck food times, please keep food free of animal products, gluten/wheat/corn, and other common allergens).

We ask that you participate as an individual rather than as a representative of some company or group or organization; and we hope you will participate as an active participant rather than as an observer.